Baking
You're not going to bake a birthday cake in a microwave, but convection makes cookies possible.

Most microwaves are lousy at baking. But models that include a convection heating element can offer a little more help in the kitchen. True convection elements include a heating element with a fan, and can brown food quickly. We even tested microwaves with cookies, and found that many of them did almost as well as a conventional oven with baking.
If you're not sure about a recipe, higher-end microwaves feature controls that automatically select the right temperature for cooking with convection.
Hero Image: Flickr User "mandarina94" (CC BY 2.0)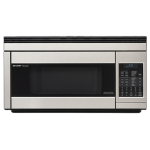 Sharp R-1874
Buy now for $719.99 at Home Depot
How does this work?
Reviewed.com offers the ability to purchase products through our affiliate programs with retail partners. While we earn a small percentage of the sale, make no mistake that our ethics policy is strongly enforced here, too. You can buy products that have received both positive and negative reviews, because we realize that there's a right product for everyone.
Be in the know! Get Reviewed.com news and reviews straight to your inbox.
Thanks for signing up!
How We Test Microwaves