Defrosting & Reheating
Defrosting and reheating are two of the most important tasks your microwave will ever do.

Even if you don't use your microwave to cook, it's likely that you'll steam some vegetables, defrost some meat, or reheat a meal. But which microwaves are best? Well, that's where our tests come in. Relatively few models do a great job on those tests, but here are some that even the best home chefs can count on for a little help.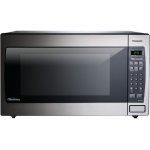 Panasonic NN-SN973S
Buy now at Walmart
How does this work?
Reviewed.com offers the ability to purchase products through our affiliate programs with retail partners. While we earn a small percentage of the sale, make no mistake that our ethics policy is strongly enforced here, too. You can buy products that have received both positive and negative reviews, because we realize that there's a right product for everyone.
Be in the know! Get Reviewed.com news and reviews straight to your inbox.
Thanks for signing up!
How We Test Microwaves