microwaves
Samsung MC17F808KDT Over-the-Range Microwave Review
An average student, but lots of extracurricular activities.
$599.99 at Walmart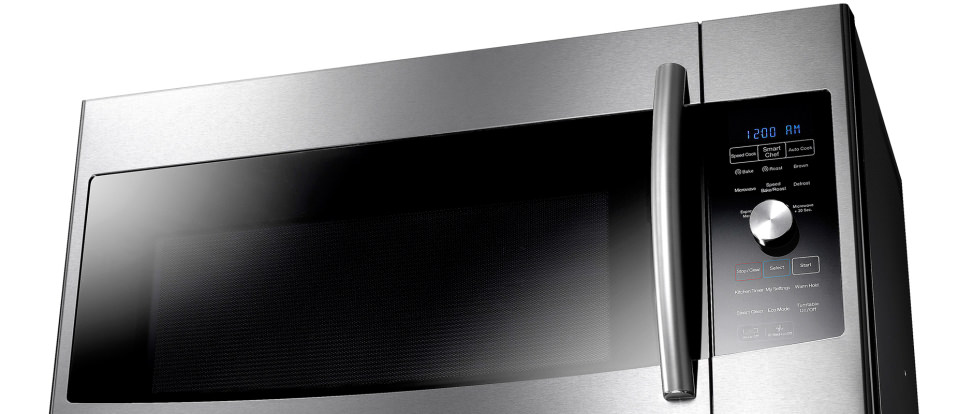 The Samsung MC17F808KDT is better than 80% of the microwaves we tested.
It is better than 76% of the microwaves we have tested under $600.
It is better than 80% of the over-the-range microwaves we have tested.
If you've ever wondered why some microwave ovens feature a convection setting, let us present to you the case of the Samsung MC17F808KDT (MSRP $599).
It features some of the best convection cooking performance we've seen from an over-the-range microwave, in addition to good microwave performance, and a series of interesting extras. For instance, there's a Steam Clean function that should make it easier to get pasta sauce splatters off the interior.
The Samsung also features Slim Fry technology, which crisps food using heated air circulation. It's a cool little feature that should prove popular among fans of chicken nuggets and French fries.
Sure, the MC17F808KDT won't be cooking your turkey on Thanksgiving. But if we were forced to trade all our other cooking appliances for a single over-the-range microwave, this versatile Samsung would be our choice.
Design and Usability
Clean in more ways than one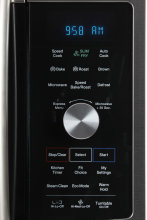 It's difficult to truly innovate when it comes to microwave design. Consumers expect a square, stainless box and manufacturers are all too eager to oblige.
It's for this reason that we are pleased that Samsung has at least elected to emphasize the design of the MC17F808KDT. It sports an appealing, clean look that will compliment existing Samsung appliances, and won't look out of place in a modern or transitional kitchen.
Along with a brushed stainless exterior and a well-designed control panel that combines a touchpad and physical dial, the microwave has an easy—to-clean ceramic enamel interior.
Two functions are worth a mention: Steam Clean and Eco Mode. Steam Clean uses water vapor to clean the microwave's interior. You still need to place a cup of water into the microwave, but it's a convenient function nonetheless. Eco Mode preserves power when the microwave is not in use by turning of the display and other non-essential functions, resulting in less vampire power.
Oddly, it lacks a one-touch sensor cooking feature. If that's a must, you can scratch this microwave off your list.
Performance
This one takes the cake... and actually cooks it, too!
In almost all our tests, this microwave achieved results just slightly above average. For instance, its popcorn setting proved efficient, leaving behind minimal unpopped kernels. Results were also good in our defrost and cooking evenness tests, but not outstanding.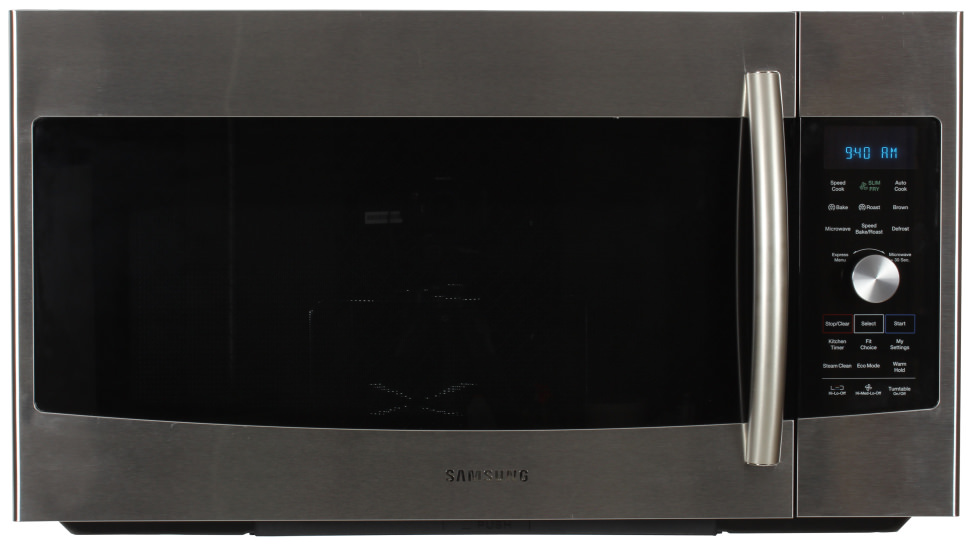 It wasn't until we tried convection that this Samsung impressed. It's unlikely to replace your actual oven when it comes to baking, but it'll do in a pinch.
For a variety of reasons, convection settings on microwaves are less robust than those on conventional ovens and ranges. But we were pleasantly surprised by the MC17F808KDT's excellent cooking results. Our test sheet of cookies emerged from the microwave uniform and consistent. We even tried a cake, and got results that wouldn't disappoint at a dinner party.
Comparable Products
Before you buy the Samsung MC17F808KDT, take a look at these other microwaves.
Conclusion
Worth it, especially if you find it on sale
Overall, our time spent with the Samsung MC17F808KDT left us pretty impressed. Sure, it didn't get straight A's, but it's well-rounded, and aced the difficult subject that is convection cooking. If it were a kid bringing home a report card, we'd take it to Dairy Queen.
With a worry-free convection setting, an interesting oil-free frying feature, and a steam clean preset, the MC17F808KDT should compliment your kitchen nicely. Inoffensive design and above average performance all around make it a good utility player.
A one-touch sensor setting is noticeably absent. But if you can find the MC17F808KDT on sale for around $399, this Samsung isn't a bad choice.
Our editors review and recommend products to help you buy the stuff you need. If you make a purchase by clicking one of our links, we may earn a small share of the revenue. Our picks and opinions are independent from any business incentives.